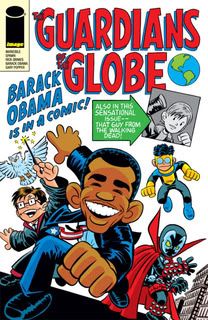 This week,
Todd
and
Joe
talk about the big comic-cons this weekend, the return of Swamp Thing, Green Lantern movie and cartoon news, Thor and Captain America movie concept art and Marvel comic availability online!
This episode also covers such books as
Brightest Day #3
,
the Thanos Imperative: Ignition
&
the Thanos Imperative #1
. Also,
Green Lantern Corps #48
,
Green Lantern #54
,
Incorruptible #6
,
Irredeemable #14
,
Secret Avengers #1
,
Avengers Prime #1
and
Thunderbolts #144
. See what happens when we miss a week?
Links Mentioned on the Show
Toronto Comic Con
Heroes Con in Charlotte
Scranton Comic Con on July 11th
Green Lantern Cartoon September 2011
Green Lantern Movie Synopsis
Swamp Thing is Back?
Hoe Cap and Thor will look in the movies?
All your Walking Dead TV info
Marvel goes day & date with Iron Man
To get the show, you can go to the site,
Three Guys From Nowhere
, or
our Facebook page
, or download the show
right here
, or get it from iTunes. The choice is yours. Also, email us at ThreeGuysFromNowhere@gmail.com with thoughts, comments, suggestions, etc.